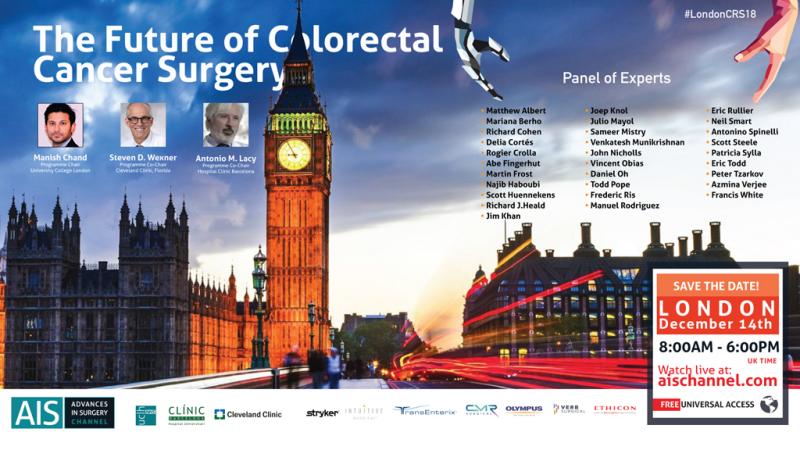 Budućnost kolerektalne hirurgije – Online event: predavanja, operacije, diskusija.
14. 12. 2018 od 09h
new era of surgery is upon us. Huge technological advances are occurring and we are now beginning to see these technologies being harnessed by healthcare. The rise of these innovations is hugely exciting but it is important that we introduce them with care and governance. These technologies have massive potential and may revolutionise the way we treat our patients for colorectal disease.
Therefore, we have assembled a remarkable global faculty to discuss, debate and present the latest trends in colorectal surgery. The event will involve a combination of moderated surgery, lectures and debates with the usual mix of global online audience interaction and panel discussion.
Live Surgeries:
Transanal Proctectomy – Antonio Lacy (Spain)
Robotic Proctectomy – Vincent Obias (USA)
Laparoscopic Proctectomy – Antonino Spinelli (Italy)
One of the highlights will be the opening address by Azmina Verjee, who will share her experience as a patient advocate and how patient involvement in research will improve the quality of studies going forward. In addition we will have some of the world's biggest industry leaders who will be on the same panel, engaging in discussion of their vision of the Future of Surgery.
On December 14th 2018 at 8 am (London time), AIS Channel will be broadcasting live this top educational opportunity co-chaired by Dr Antonio Lacy (Spain), Dr Steven Wexner (USA) and Dr Manish Chand (UK).