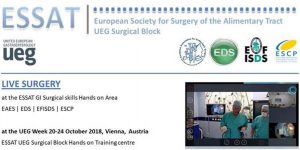 Live surgery presentations and learning are becoming more meaningful than ever with the ever increasing plethora of technology allowing medical professionals to engage and explore together in pursuit of raising the bar both in learning and research focused discussion.
The UEG Surgical Block (ESSAT) is pleased to have the support of professionals MedVC raising the bar once again in the 2 live surgery events, not only in providing an excellent secure transmission of the procedure but also the facilitation of the session through means of collaborative tools of the technology on hand.
Added benefit is that the actual material, subject to permission of stakeholders involved, will be available afterwards as valuable learning and referencing material.
Don't miss these great events on Monday 22nd and Tuesday 23rd October between 9.00 and 12.00 hrs at the UEG Week Surgical Learning area (timing subject to OR/patient sensitivities).
And there is more!
See http://www.essat.eu/hands-on-courses-.html for a full outline of the course program.
EAES members who are registered for the UEG week and for certain hands on courses can apply for a €500 travel grant!
Interested? Please visit the EAES website for more information